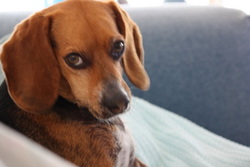 Our adorable Beagle, Luke.
Sometime in 1999, while still at home with three young boys, home schooling two of them, taking care of a house, a husband, and 5 acres on Vashon Island, I WAS BITTEN HARD BY THE MOSAIC BUG! From then on it became my goal to develop my mosaic talent in hopes that one day it would become a full time job. I would love that!

A few years into my mosaic journey, my ever supportive husband gifted me with a ceramics kiln. This opened a whole new world for my creative expression. No longer limited to what I could scour in thrift stores and antique shops, I could now create an ever changing supply of handmade tiles, including words, shapes such as leaves, hearts, stars and hand formed 3d flowers. The list is long, and the possibilities of colors and shapes are endless. I love this!


---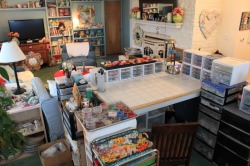 My Studio
Throughout the years, my collection of mosaic supplies, especially dishes, china and knick knacks, has grown so large that i left my spare bedroom "studio" behind and claimed our living/dining room as my new and improved "real studio",(don't worry about the guys, they still have the family room). I just love it!



Over the past few years I have experimented with Arts and Craft Shows. The response to my work has been overwhelming. I can't tell you how much fun it is to spend a weekend talking to people that love what you do and sending them off with a treasure that they are so excited to have for themselves or to give as a gift for someone special.I love doing art shows too!


---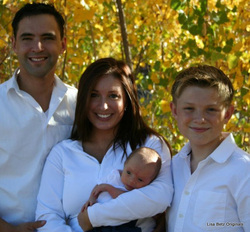 I'm a grandma now! Tyler, Tamara, Preston and Skyler


From 1999 until now, some things have changed and some not. I still live on an island. I still take care of my husband and boys. One of the boys is now married toTamara our wonderful daughter in law. They have two boys, Skyler and Preston. The other two are still students. The youngest home schools part time and is at the high school part time. Our middle son is pursuing a degree in business and would like to open a cafe some day.

I have spent countless hours consuming anything mosaic that I could get my hands on. I am still learning, growing and loving every minute of it. Besides mosaics I have a new found love of jewelry.


I am thankful to be blessed with a passion and talent for something that brings so much joy into the lives of others.Thank you for being a part of that.






---