Blue daisy

You will be noticed when you wear this necklace! All of the components of this pendant are intricately soldered to gether, this is made to last. It comes strung on a 9" leather strand with a 5" extender chain, a total of 14" in length possible. The pendant measures 3-1/2" x 1-1/2".

Red rose with pink

These rose necklaces are full of bling and lots of fun to wear. Strung onto a 8" leather strand with a 5" extender chain for a total of 13" for hanging. The rose is handmade by me and fired twice in my kiln. All of the components are solidly soldered together. The pendant measures 1-1/2" x 1-1/4".
Flower mosaic heart

This pendant is made with handcut vintage china and a tiny powder blue flowe that I fire twice in my kiln and a swarvoski rhinestone center. The pendant comes on a handstrung stretchy necklace of beautiful blues, white and clear beads. The necklace can be doubled for a choker style or kept long and dangly.

Red flowers

There is a lot of work in this pendant...first I cut and tumbled the glass piece. Next I painted the back with artist acrylic paints and then sealed it. After all of that I soldered the edges and then wired and soldered all of the little leaves and flowers, rhinestones and beads, I love how it turned out! This pendant comes on a 16" ball chain necklace that can easily be shortened. You can also string the pendant onto a necklace that you may already have. This pendant measures 2-1/2" x 1-1/2".
Pink frog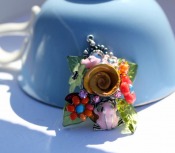 This sweet pendant is loaded with flowers, rhinestones and leaves all solidly soldered together and features a little pink frog and a yellow rose that I make and fire twice in my kiln. This pendant comes with a 16" ball chain necklace that you can adjust to your liking by cutting the chain.
Artsy pink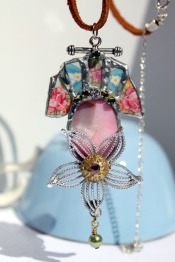 This pendant measures 3-1/2" x 1-1/2". I've handcut very small pieces of vintage china and soldered them together along with the larger pink bead and silver star flower. I added lots of rhinestones for the appropriate amount of sparkle and finished with a wire wrapped swarvoski pearl.
Rhinestone Heaven


This necklace is showy, but so much fun to dress up or down. It all started with a 1/4" piece of glass that I cut from a crystal platter, tumbled the edges smooth, painted and sealed the back and then begins the soldering. I got a little carried away with the rhinestones, but I love rhinestones! I added some swirly wire, silver flowers and a crystal wire wrapped bead. The necklace itself is created from vintage chains that i've added bits and pieces from and added some wire wrapped beads too.


War Memorial


I cut this pendant from an antique souvenir plate, soldered the edges and added a vintage earring to the top and tiny metal leaves and flower with a rhinestone center. The necklace is a fun array of wire wrapped beads, vintage and new chain. The pendant measures 3" x 1 1/2" and the necklace hangs 17" not including the pendant.