Sold buckles
Before I finally took the time to build my website, I sold many belt buckles at art shows. Sadly I did a terrible job of keeping photos of those long gone buckles. So this will be the beginning of keeping track of sold buckles.
Flower Power buckle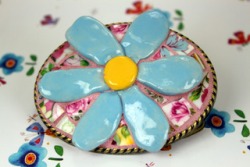 I make lots of ceramic flowers to use on my larger mosaic pieces, but one day decided to plop one onto a belt buckle. I loved the look. The delicate flowery china makes a nice backdrop for this buckle.
---
Under the Sea Buckle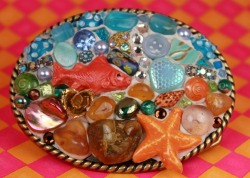 I loved this buckle, so I was happy that my good friend Julie bought it. I know I will be able to visit it at least once a year when we attend our annual junior high school reunions! I'm sure I will be making another version of this sometime soon.

I made molds for the fish and the starfish and made ceramic pieces from the molds and fired them in my kiln. There are also agates that we hunt for along the Oregon Coast and then tumble them ourselves. Many tiny shells and beads finish off this buckle.
---
Cowboy Boot Buckle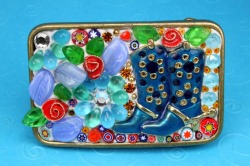 This buckle is so pretty and sparkly in person, it's so hard to capture in a photo. It features a fun cowboy boot pin and three of my tiny handmade ceramic roses. I love the blue and red color combo, it's one of my favorite. It went to a good home with my friend Tammy.
---